CHRISTIAN FREEDOM OF RELIGION UNDER THREAT -
YOU CAN MAKE A DIFFERENCE!
Sign the Petition!
Nuus.News Article Summary:
Breaking News: the President of South Africa, Mr Cyril Ramaphosa has announced the ANC-led Government's ban on all Religious gatherings, such as Church meetings, indefinitely, as long as any "threat of contamination exists".
SHARE THIS MESSAGE WITH ALL CHRISTIANS, ESPECIALLY ALL THE PASTORS AND MINISTERS OF SOUTH AFRICA. FEW CHRISTIANS ARE AWARE OF THIS. ITS AS IF THE CHURCH IS SLEEPING – THEREFORE, AWAKE CHURCHES IN SOUTH AFRICA!
Churches have been assessed by the SA Government and classified 1) as non-essential services and 2) grouped together with shebeens, taverns and entertainment venues. 
It seems no thought at all has been given to God, nor any place, in the Government's assessment of the National State of Disaster. 
The Church should however take note that the Disaster Management Act does not overrule the Constitution's Bill of Rights, in authority. The Bill of Rights is still superior and grants Churches the freedom to meet.
Now the time has come for South African Christians to either prove their faith or deny their faith in Jesus Christ and the Bible. 
An opportunity has been created for Christians all over South Africa to sign a petition to ask Government to
1) Classify Churches as Essential Services
2) For Church gatherings to be allowed in terms of the Bill of Rights clauses addressing religious freedom in SA.
The petition is supported by churches all around South Africa and has just been launched, but already has thousands of votes. 
Find out why the church is being targeted? Why do Churches have to gather? More below.
Christian Freedom of Religion under Threat - Every Christian's vote counts:
The SA Government has announced its Coronavirus alert levels 1-5, which dictate the possible risk of transmission of the virus among South Africans. Economic activeness is set out for each level.
The surprise however is that S.A. Government have OUTLAWED ANY CHURCH GATHERINGS, NO MATTER THE ALERT LEVEL. 
One would have thought that this would only take place in a Communist country under dictatorship rule, not South Africa, a so-called majority Christian nation.
Amazingly, the ANC-led Government has also refused clear, official recognition of the "Essential Service" classification for Churches.
Churches are the ones providing food and shelter, financial, mental and physical help to those in distress. Although government is trying its best, it cannot help the whole of South Africa. they can only provide food parcels for 250,000 households. This is only +/-1% of households in South Africa. Who will take care of the rest? The Church of course, like it has always done. However Government has now come out to stop this aid that Churches provide to millions of people in South Africa by banning Churches from being classified as Essential Services. Efforts have been made to ask government to open but they have kept refusing. All this, while churches all over the world have reopened again.
What Government also hid from you, was that they now effectively stop the Church from gathering UNTIL A VACCINE IS FOUND. The "threat of contamination" can only disappear when a vaccine is found and everyone has been vaccinated. You can see for yourself on page 16 of the Government's Alert Level publication. It's hidden in the detail: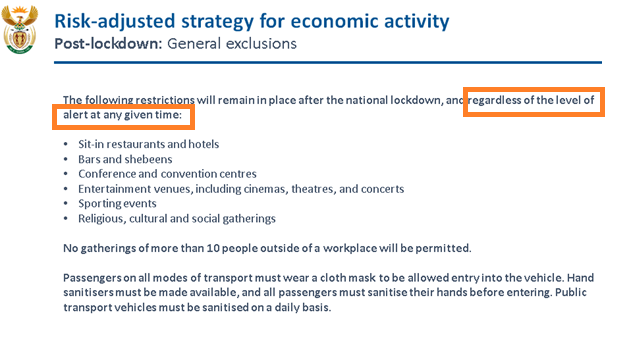 The Spiritual Significance of a Ban of the Church
Spiritually speaking, Christians all over the world know that any actions to stop the churches from gathering in any way, are brought forth by the spirit of the antichrist according to the Bible. It's exactly what the antichrist spirit wants, in order to implement its strategy for world domination. The corporate prayer and worship of the Christian Church is the only thing left restraining the antichrist spiritually from gaining a:
One World Economy, which it needs to implement a
One World Government, so that the antichrist can raise up its
One World Religion as prophesied in the Bible.
With the coronavirus attack on the world economies, the antichrist got its best chance it has ever had up to now to achieve its goals. (Read more on this in, a series of articles that will follow on your favourite News NON-Mainstream media News Outlet, www.Nuus.News)
Therefore, Christian Church subsequently do NOT support the stopping of Church gatherings in any way, as it goes against God's clear commandment that the church may not stop gathering together until the church is raptured: "Hebrews 10:25 Not forsaking the assembling of ourselves together, as the manner of some is; but exhorting one another: and so much the more, as ye see the day approaching." (the day means the day of rapture)
Accordingly, the Christian Church in South Africa has raised a petition on www.change.org to ask government to:
Classify Religious Institutions as Essential Services rendered to the people of South Africa in terms of Section 31 of the Bill of Rights of the Constitution.
The churches be allowed to visit members to give them food, shelter and life sustaining goods.
To afford churches their Constitutional right to meet.
The time has come for true Christians to rise and either prove, or deny their faith in the Bible and in the Power of Jesus Christ. Some don't want the church to gather, not even if the Church wear masks and observe best hygiene and social distancing practices. 
Putting things into perspective:

The question arises, does it make sense for supermarkets (with low hygienic standards) to be open, but Churches, which are of the highest hygiene standards, must close down? Schools are to be opened now (in winter) with little, vulnerable, 6 year olds, sitting in cold classrooms exponentially increasing flu risks to them, but to government that's no problem. The Church rather seems to be the major problem.
Taxis can move freely in the locations and on the roads in less than hygienic and safety conditions in small confined spaces carrying many immune compromised people daily, while we all know taxi drivers behaviours and how they despise the law of the land – but that is acceptable to Government. However Churches, with very high standards of ethics and the proven sense of responsibility, are to remain closed? Decide for yourself if this makes any sense.
Why can't the Church also be allowed to wear face masks, sanitize heir hands, observe physical distancing and then be allowed to gather and meet? People are spirits, and need spiritual food more than physical food, according to what Jesus Himself have said. The Church needs to gather to pray in unity against a complete economic collapse in South Africa due to the coronavirus and against every satanic conspiracy to destroy our beloved people and country as a whole. What about the abused women and children, the old, the widows and the needy that need Church support? Who will look after them?
To add your vote to support the Church click on the link below and sign the petition.
Watch the video below by Pastors Neville and Wendy in Cape Town who have started this initiative, supported by churches all over South Africa.
Spread this news and this article as far and wide and as quickly as possible. Let all Christians, especially the Pastors and Church leaders know about this petition. According to Statistics South Africa and other sources, there are between 64% and 80% of South Africans that are professing to be Christians. That is roughly between 30million and 40million Christians. Every Christian now has the chance to speak up for their faith and prove their faith in Jesus Christ. If every Christian take a stand for Jesus Christ now, we can quickly change the fate of the Church. Never before had the Church such a great persecution in South Africa, but also a great chance to act in unity of faith and change the South Africa for Jesus!
Remember what Jesus said: Luke 12:8-9 "Also I say unto you, Whosoever shall confess me before men, him shall the Son of man also confess before the angels of God: But he that denieth me before men shall be denied before the angels of God."
Keep coming back to News.News as we will expose more in depth details regarding the Corona Virus.
In the meantime, you can learn more about News. News on our launch website:
You can also find relevant current news articles by clicking on the menus at the top of the web page.
News.News we bring you news that the mainstream media will never bring you.
Newsletter!
Subscribe to the www.Nuus.News Good News letter and stay abreast of information you won't find anywhere else.
SUBSCRIBE