Prayer for Today with Pastor, Dr. Able.
Join today's verse and prayer at 12pm
in a powerful live prayer session.
Prayer For Today: If you want to pray with Christians all around the world in powerful, daily prayers in unity of the faith, please join the Prayer For Today on www.facebook.com/able.akpanke at 12 pm for a livestream of the prayer from sunny South Africa and be part of the passionate prayers that are going up for the church, South Africa and the world, during the Corona pandemic. Be strengthened in your faith and cast out all fears with strong prayers! Take control of your life. If you struggle to pray, use this opportunity to grow in your prayer life. If you don't know how to pray, it will be well worth it to listen to the Man of God, Dr. Able, as he leads in prayer and a Bible verse every day. 
The prayer for today has been consistently running now for nearly 5 years and hundreds of Christians have rescheduled their days to ensure they don't miss the daily prayer at 12 noon every day. Be part of this solid prayer network and move mountains with your prayers and faith. The time of refreshing in the Presence of the Lord is just what you need to give your day a lift. The broadcast is done every day, live on Facebook, but you can get the prayer points for the day here on Nuus.News beforehand in preparation of the prayer session.
2020/1/6-2021/1/6
PASTOR CHRIS / CHRIST EMBASSY:
YEAR-LONG-PRAY-A-THON
24/7/365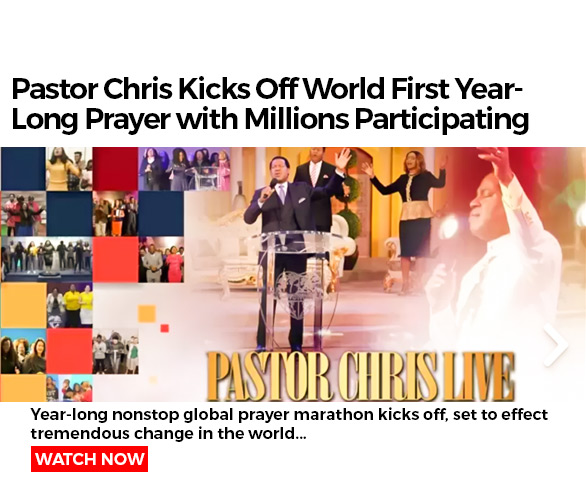 Get your prayer for today here on your favourite Good News website, Nuus.News. 
We are working on this section of the website and plan to have a prayer posted here for every day which you can join daily.
In the mean time, please enjoy joining the 1 year long Pray-A-Thon with Pastor Chris above.  Prayers and supplications are being offered to God 24/7/365 which started on 6 January 2020 and will end on 6 January 2021. Turn up the volume and join the prayers, or just put it on as your background sound in the car, at home, in the office, or wherever you find yourself, prayer is something that one can make in season and out of season, and it will always bear fruit. Once you hear the prayers rising from all over the world, you can't but join in prayer. Keep your mind focused and in a prayer mood as you watch the prayers' live streaming below. Believers are pouring out their hearts in prayer. Please be patient as it does take a while for the live stream to load – its worth the wait! Please note that the sound is on by default and starts playing with sound on, so you can turn your volume down a bit while waiting for the streaming to begin and then turn it up to your liking. Streaming on a laptop works better than on mobile, especially when the network is slow.
(If you are new to prayer, take note the people are not praying in a normal language of the world. Most of the time they are praying in 'tongues' as inspired by the Holy Spirit of God. We will soon have an article on 'praying in tongues' on the site which will explain more).
If you are inspired by this awesome prayer project you will also like the 24/7/365 worship that is now been ongoing for 20 years non-stop before the Lord. Wait…What!?
Nuus.News brings you this news to let you know that you are not alone in this world. Your prayers are not alone, and they are not unanswered. Be encouraged and be inspired to do more for Jesus in your world and prayer life. Stand up, you can make a difference.